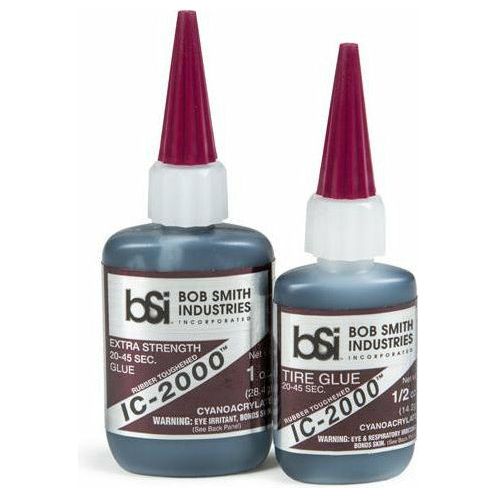 Bob Smith Industries, BSI-117, IC-2000 Tire Glue Rubber Toughened CA Glue, 1/2 oz
---
Low stock - 1 item left

Inventory on the way
Description
IC-2000™ is a rubber-toughened cyanoacrylate that forms superior shock resistant bonds on non-porous surfaces. The black colored CA has added flexibility for the bonding of metals, fiberglass, rubber, carbon-fiber and other advanced materials. For model use, IC-2000™ is ideal for the bonding of bulkheads, formers and servo rails to the inside of fiberglass hulls and fuselages. Setup time is 20-40 seconds, which can be accelerated with INSTA-SET™. When cured, IC-2000™ is pliable enough to be carved with a hobby knife. IC-2000™ is the best adhesive for R/C car tires.
IC-2000™ has found many uses in industrial applications, such as rubber to rubber bonding by Beechcraft, carbon composite bonding by Boeing, rubber door seals by Volkswagen, speaker and subwoofer assembly in the audio industry and many others that need the most durable, shock resistant fast bonding adhesive that is available.
Works Best On:
Glass & Metal
Fiberglass
Hard Plastics
Rubber
Reinforcing
Works Good On:
Balsa Wood
Soft Wood
Hard Wood
Ceramics
Laminating
Water-Resistant
Screw on top and cap unit to puncture the seal on the tube Remove cap and apply IC-2000™ CA to one side of the parts being joined, then hold them tightly together for 10-25 seconds for shock resistant joints. For larger bonding areas, apply serpentine beads of the CA, allowing for the spreading of the adhesive. For maximum flexibility, do not use with an accelerator. Full strength is reached in three hours. Wipe the nozzle clean before replacing screw-on top. Refrigerate to extend shelf life. Cured CA is stable from -40 to 250º F. Top and tip can be soaked in acetone for cleaning.
ADDITIONAL INFORMATION
| | |
| --- | --- |
| Viscosity | Extra Thick |
| Foam Safe | No |
| Size |  1 oz. |
| Additional | Eye and/or Nose Irritation, Not Foam Safe, Water Resistant |
| Odorless | No |
| Product Type | Cyanoacrylate |
| Brand | Bob Smith Industries |