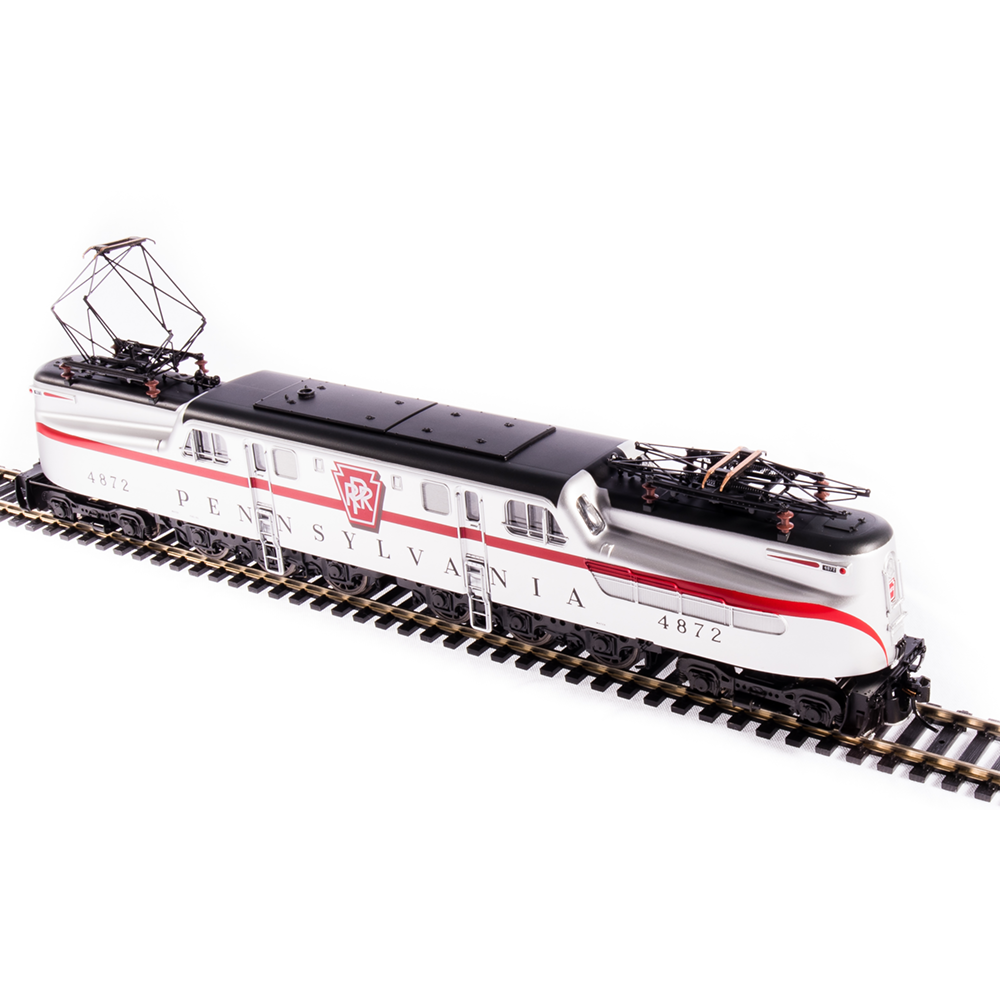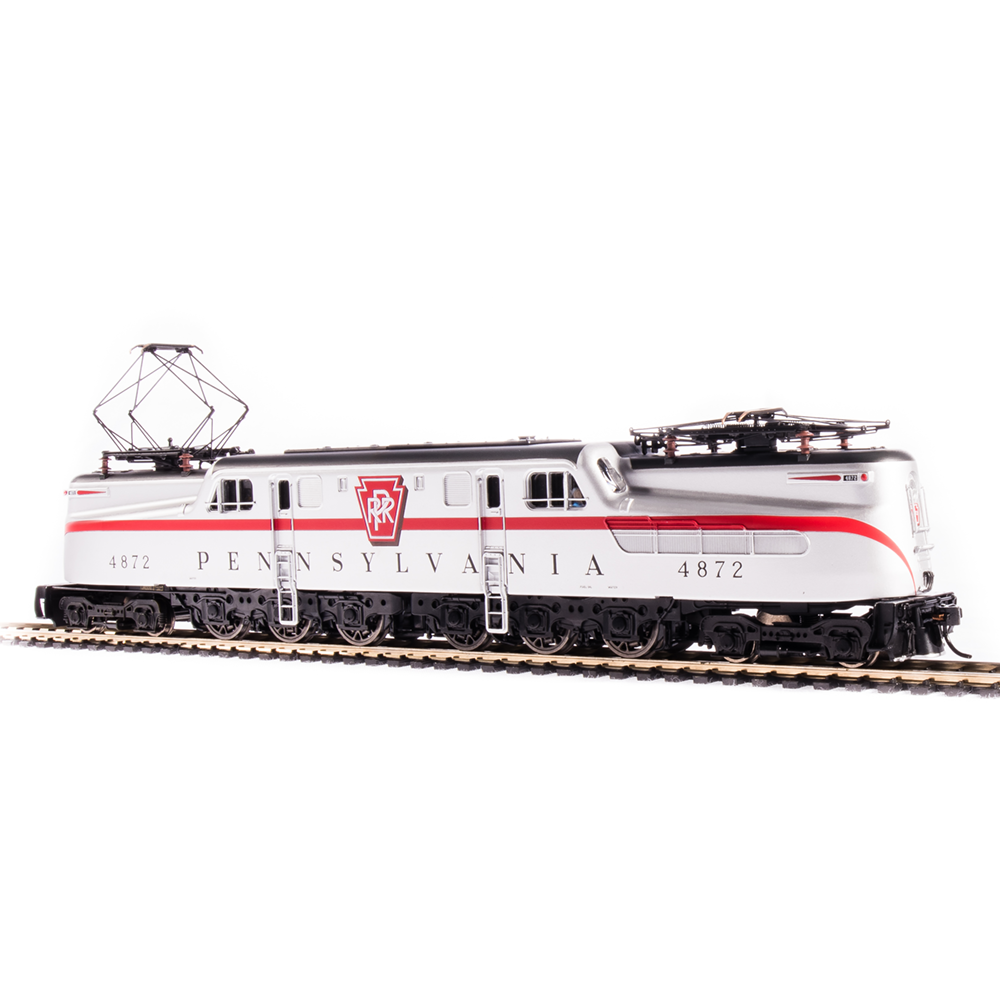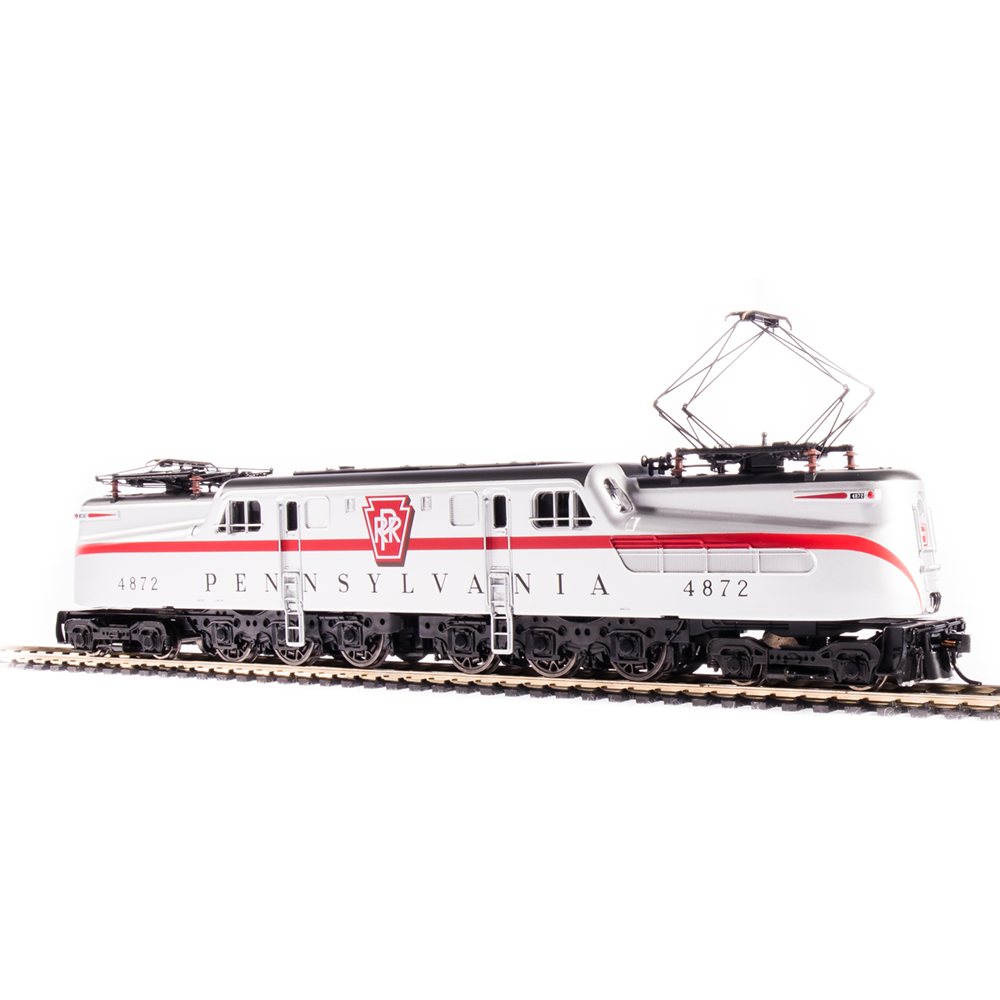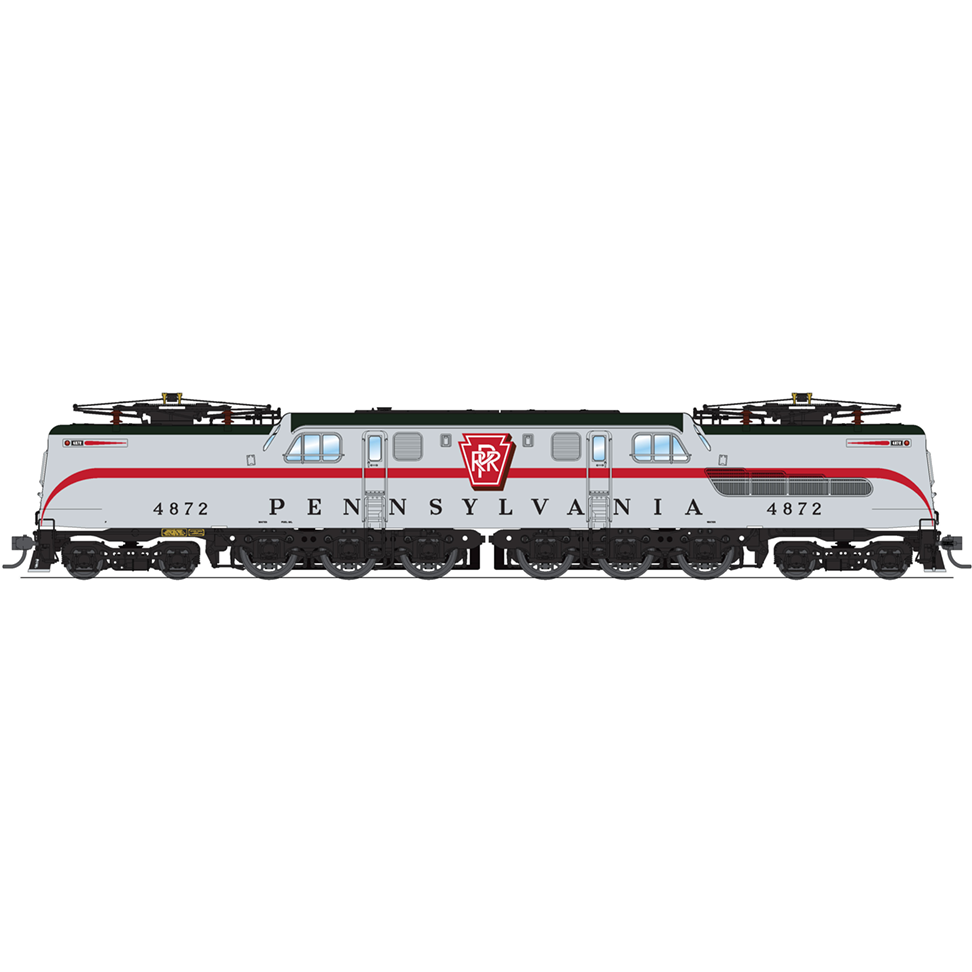 Broadway Limited Imports, 6370, HO Scale, GG1, Pennsylvania Railroad, #4872, (2021 Production)
Regular price
$419.99
Sale price
$199.99
/
---
Low stock - 1 item left

Inventory on the way
PARAGON3 SOUND/DC/DCC EQUIPPED
Red & White Logo
Among the worlds most recognizable engines, the GG1 is no stranger to rail fans of all levels. The GG1 has been plastered on everything from magazine ads and Hollywood movies to coach seat headrests.  It is said to have been in more advertisements and movie clips over the years than any other locomotive.  
The GG1 was designed in 1934 because the Pennsyvania Railroad was unsatisfied with the performance of the P5a.  GE delivered the GG1 prototype to the PRR in August 1934, and PRR ordered 57 more locomotives in November of the same year.  They eventually built an additional 81 units between 1937 and 1943.   The GG1 represents a breakthrough in electric locomotive technology.  It was patterned mechanically after the New Haven Railroad EP3.  The GG1 could track better at high speeds compared to the P5a, and the wheelbase design allowed it to negotiate sharp curves and some railroad switches that the R1, another PRR Electric option, wasn't able to negotiate due to its rigid wheelbase.
Broadway Limited Imports brings the memory of this world famous locomotive to life in die cast construction with Paragon3 electronics including Rolling Thunder™.  In this production run, we offer six distinct PRR paint schemes, one Penn Central, and one Amtrak.  Each road number and paint scheme are prototypically accurate.   In our 2019 production, we built models with the flat pilot and fixed coupler.  In this 2021 production run, our models have the later drop coupler and pilot shape that accommodates the coupler in the down position.  Our models also have three distinct intake vent options, and each model has the correct intake vents for the selected paint scheme. 
Industry-Leading Features

:
 
 

Product Information:


 

Paragon3 Sound & Operation System featuring 

ROLLING THUNDER

TM

 

Authentic Sounds and Prototypical Operation in both DC and DCC environments

Integral DCC Decoder with Back EMF for Industry Best Slow Speed Operation in DC and DCC

Precision Drive Mechanism engineered for continuous heavy load towing and smooth slow speed operation

Premium Caliber Painting with Authentic Paint Schemes

Road-specific Detail Variations Accurate for Each Paint Scheme

Prototypical Light Operation with Golden White LED Headlight and Rear Light

Built-in GoPack Capacitor Pack for Better Performance on Dirty or Uneven Track

 

Die Cast Boiler Body with Die Cast chassis for Maximum Tractive Effort

Operating Pantographs for Prototypical Appearance (not motorized)

(2) Operating Kadee-compatible Couplers

Operating Headlight and Rear Light

Separately Applied Handrails, Grab Irons, Ladders, Horn, and Brass Bell

Factory-Installed Engineer Figure

Will Operate on Code 70, 83, and 100 Rail

Recommended Minimum Radius: 18 inches

Accurate Prototypical Sounds for a GG1 Electric Locomotive

 
Paragon3 Sound & Control System Features:
ROLLING THUNDER™

Unmatched frequency response as low as 20 HZ when paired with Rolling Thunder™ subwoofer kit

8 simultaneously playable audio channels

Improved motor control in DC & DCC

Motor short circuit protection

Works with NMRA standard DCC controllers

Automatic dual mode: works with DC power packs or DCC systems

Two selectable bells

Three playable horns with variable endings

One long non-looped horn

One alternate horn for locomotives with a second horn

4x expanded autopilot storage vs Paragon2

Expanded startup and shutdown sequences

64 MB sound memory

2 watt audio output

24 individual sounds with separate volume control

Adjustable bell ringing interval for faster or slower bell

Numerous user-mappable functions with available keys

Multiple Realistic Passenger and Crew Sounds play on command

Simple Programming with Integral DCC Decoder

Fully Compatible with JMRI Decoder Pro

Automatic Forward / Reverse Signal - When activated, stopping triggers and stop whistle toot.  When moving forward from a stopped position, toots twice.  When moving in reverse, toots three times.

EZ Reset button for quick return to factory default settings
**Specifications on this page subject to change.