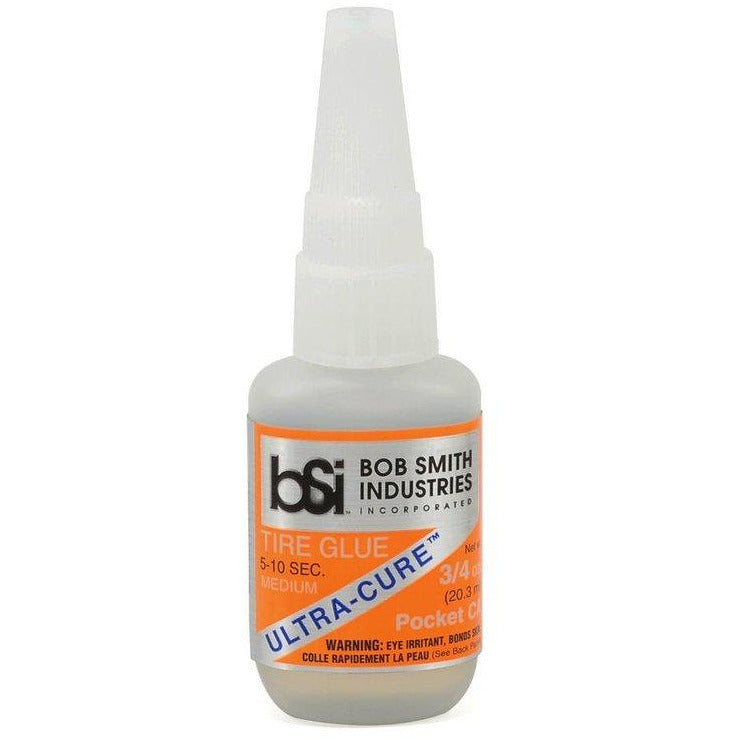 Bob Smith Industries, BSI-130, ULTRA CURE, Tire Glue Medium Thin CA, 3/4 oz
Regular price
$7.99
Sale price
$6.49
/
---
Low stock - 4 items left

Inventory on the way
Description
Bob Smith Indusries, ULTRA CURE, Tire Glue Medium Thin CA, 3/4 oz, BSI-130
Ultra-Cure™ Tire Glue
Ultra-Cure™ is a very high performance clear cyanoacrylate that has a viscosity (thickness) in-between that of Insta-Cure Super Thin and Insta-Cure+ Gap Filling Medium. It is ideal for the mounting of rubber tires onto R/C car wheels. It is available in our 3/4 oz Pocket CA bottle and comes with one of our new #304 Extender Tips for the Pocket CA pin-in-cap top. ULTRA-CURE™ can be used in many other applications that require a slightly thicker thin CA and will bond virtually everything. It is not foam-safe, however.

Additional Information
| | |
| --- | --- |
| Viscosity | Medium Thin |
| Foam Safe | No |
| Bonding Time | 05-10 Seconds |
| Size | 3/4 oz. |
| Additional | Eye and/or Nose Irritation, Not Foam Safe, Water Resistant |
| Odorless | No |
| Product Type | Cyanoacrylate |
| Brand | Bob Smith Industries |


Uses
Directions

Unscrew top from nozzle. For finer applications, use the extender tip. Carefully lift the sidewall of the tire after it is mounted to the wheel to expose the area to be bonded. Apply a drop of Ultra-Cure™CA Tire Glue into the gap, then slowly return the tire to its seated position. Continue this process around the circumference of the tire. Repeat these steps for the other side. Wipe the nozzle clean before replacing screw-on top. Refrigerate to extend shelf life when not in use. Ultra-Cure™is also superior for bonding most other materials. Soak extender tip in acetone for cleaning.