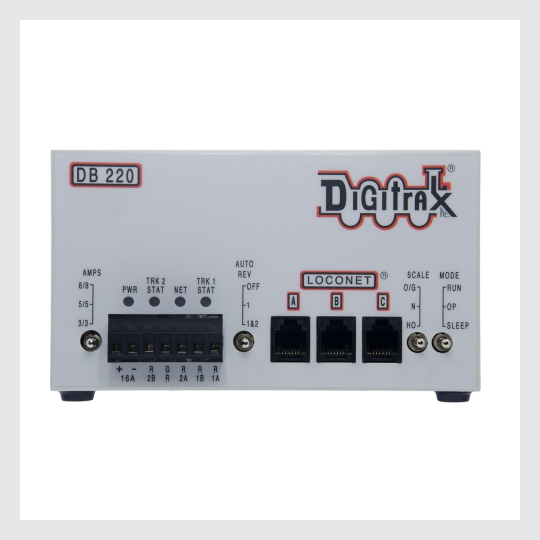 Digitrax, DB220, Advanced LocoNet Dual 3/5/8 Amp AutoReversing DCC Booster (Up to 16 Amps of Power)
Regular price
$240.00
Sale price
$179.99
/
---
In stock, ready to ship

Inventory on the way
Description
These new advanced boosters are designed to give you more power to run your trains. The new boosters offer 3,5, or 8 amps of output power to better match the Command Station of your choice. They are available as a DB210 single booster in regular or opto-isolated offering up to 8 amps of power, or the extra powerful DB220 dual booster offering up to 16 amps of power total. Front dip switches allow for quick setup of Amps, AutoReversing, scale voltage, and operation mode. Also equipped with custom voltage trim so you can have consistent track voltage throughout your layout. The units can also be IPL updated and support LocoNet statistic reporting via an updated DT500.
Dual 3/5/8 Amp AutoReversing DCC Booster 
Up to 16 Amps of power total 
N, HO, & Large Scale Operations with Custom Voltage Trim 
LocoNet for easy plug n play installation and system expansion 
Easy dip switch setup 
Auto resetting over temperature and short circuit protection 
Track status indicators 
Stabilized track drive output 
Over-voltage protected 
Auto-Shutdown when command control signal is lost to prevent runaway trains 
IPL updatable
In addition to your DB210/DB220 you'll need a suitable DC power supply. The BD210 accepts a DC 13.8V to 24V power supply with 3,5, or 8 amp capa- bility. The DB220 Dual booster accepts a DC 13.8V to 24V power supply with 6,10, or 16 amp capability. Digitrax power supplies are recommend however you may use your own existing suitable power supply.